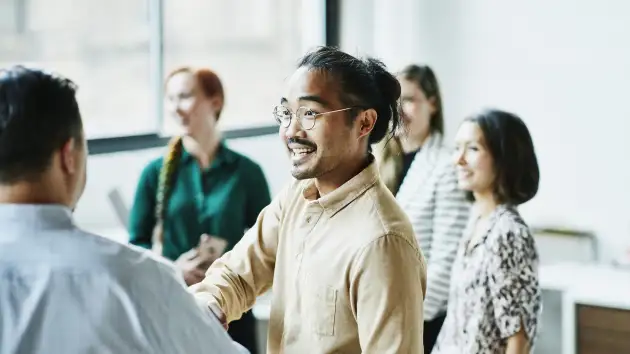 I'm a typical introvert, whether or not you believe it. As a psychological scientist I love people in general and in great details, but going out to see people especially in a big party place is completely the other thing apart. To confine myself home for 2 weeks without seeing anybody other than my family is not a pain at all. Being shut in the house and navigating Wikipedia for 12 straight hours can be a joy for me. Luckily, I have an out-going, extrovert wife. Otherwise, my kids would have limited hours of being outside with vitamin D deficiency.
Back in the US, I had a lot of problems for my shyness, fueled even more by my English proficiency as the second language. It was OK to be in a familiar group. But in a party situation where I knew few folks, I was quite awkward. To break it out, my primary strategy was to go there with close American friends of mine who already knew who I was and could positively introduce me to the surroundings. They spread my rumor in the ballroom so some new potential friends would come to me. It's much easier.
The article mentions that hugely successful business people like Bill Gates, Warren Buffett, and Mark Zuckerberg are all introverts. I see that. Their highly analytical skills and deep thinking may come from this personality trait. And they know how to surround themselves with extroverts so that they can work "as a team." It's damn true. Without Steve Ballmer, who was the No.3 of the earliest Microsoft endeavor, who is known an energetic extrovert, Bill could have failed to scale out his software empire.
introvert、内向的な人のことを英語ではこう呼びます。信じるか信じないかは別にして、私も典型的なintrovertです。心理科学者ですから、人間は大好きですが、一日中人に会わずに2週間閉じこもり、ひきこもっていても特に支障はありません。12時間ストレートでウィキペディアで遊べます。静かに読書、大好きです。
今も、妻が外に出たがる外交的な人間でなければ、おそらく我が家は日光を浴びる確率が随分と減っていたでしょう。
まとまった良い記事です。内向的な人がネットワーキングをする際のヒントが7つ書かれています。特に、外交的な親しい友人を軸にして広げていくというのはとても有効です。私もアメリカ時代にこれを心がけました。自分から自己紹介したり輪の中に入るのはシャイで苦手なのですが、外交的な友人が自分のことをポジティブに周囲に紹介してくれるのは容易い。また、それを聞いて相手の方から来てくれるとずっとストレスが小さい。大勢いると苦手だけど一対一なら落ち着いて話せますから。
この記事にもあるように、マークザッカーバーグ、ビルゲイツ、ウォーレンバフェットは内向的で知られています。でも、ゲイツなんて世界で最も地球を飛び回っている人ですよね、ゲイツ財団の使い道を探すために。
ただ、彼が登場する動画や書いたものを見ていると、今でも内向きなコンピューター少年です。ただその強みを生かし、外交的な友人、初期トップ3の営業の天才バルマーとか、をチームに入れることで成功してきました。
(info source: https://www.cnbc.com/2022/09/29/expert-networking-tips-for-introverts-from-coach-jevonya-allen.html)
(img source: Getty Images)